Podcast: Play in new window | Download
Subscribe: Apple Podcasts | Google Podcasts | Spotify | Android | Pandora | iHeartRadio | TuneIn | RSS
The book
Buy the new textbook (Bryan edited, Brandon authored a chapter) here or on Amazon:
Concepts in Surgical Critical Care, First Edition
ed. Bryan Boling, DNP, ACNP; Kevin Hatton, MD, FCCM; Tonja Hartjes, DNP, ACNP-BC, CCRN, FAANP
The podcast
An in-depth look at the management of right heart failure, with a focus on preserving peri-intubation hemodynamics using the SAVIOR protocol—featuring its co-creator, anesthesiologist and intensivist from the University of Kentucky, Habib Srour.
Takeaway lessons
When facing undifferentiated shock and a complex picture, look for one point of data to help distinguish the etiology. Try touching the feet: cold is a good indicator of a significant cardiogenic component.
The flip side of hypoxic vasoconstriction is hyperoxic vasodilation of the pulmonary vasculature—i.e. an overly high FiO2 will tend to worsen V/Q matching.
To hemodynamically manage RV failure without worsening RV afterload, consider the Rule of 8s cocktail:

Epinephrine .08 mcg/kg/min
Dopamine 8 mcg/kg/min
Vasopressin .08 units/min
Inhaled epoprostenol (Veletri/Flolan) 8 ml/hr

The "lung pump" of negative pressure respiration provides a substantial amount of cardiac output, particularly in the setting of RV failure. Paralysis, sedation, and intubation removes this. The period of apnea also worsens acidosis which increases PVR.
The dead space to tidal volume ratio increases by at least 50% after intubation; it will be impossible to match an already-high spontaneous minute ventilation on the ventilator.
Resources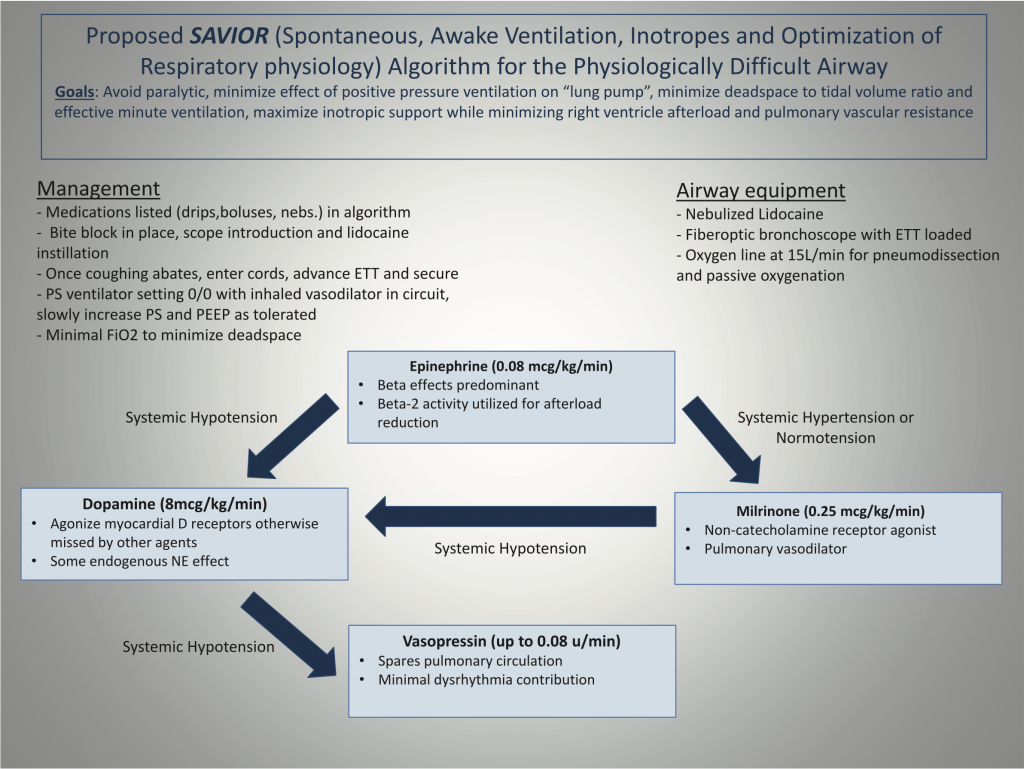 References